Choosing the Best Gaming PC for League of Legends
Being one of the most popular games on the esports scene, it's not unusual for people to want to try out League of Legends for themselves. For someone looking to join in on the hype, League is a fairly accessible game for most desktops and laptops released in the last decade. As such, it's not hard to find or build a good gaming PC to run League of Legends. All you really need is a decent CPU and onboard graphics.
The best possible gaming PC for League of Legends is one that prioritizes the CPU over the GPU due to the quick reaction time needed to compete. With a high skill ceiling, any competitive advantage your machine has against latency will be better, contributing to better reaction time.
This guide covers everything you need for the best League of Legends gaming PC. 
Minimum & Recommended Specs For League of Legends
Fortunately, the minimum requirements to play League of Legends on PC are pretty attainable even on budget or casual builds. That said, the recommended specs help minimize input lag to maximize your reaction times.
Minimum Requirements for League of Legends on PC:
CPU: Intel Core i3-530 / AMD A6-3650/ @ 3.0Ghz

RAM:

≥

2 GB

VIDEO CARD: NVidia GeForce 9600GT / AMD Radeon HD 6570 / Intel HD 4600 Integrated Graphics (DirectX 10) (

≥

512MB of VRAM)

PIXEL SHADER: 4.0

VERTEX SHADER: 4.0

OS: Windows 7/10/11

FREE DISK SPACE: 16 GB
Recommended PC Specs for League of Legends:
CPU: Intel Core i5-3300 / AMD Ryzen 3 1200 @ 3.4 Ghz

RAM:

≥

4 GB

VIDEO CARD: NVidia GeForce GTX 560 / AMD Radeon HD 6950 / Intel UHD 630 Integrated Graphics (DirectX 11) (

≥

1 GB of VRAM)

PIXEL SHADER: 5.0

VERTEX SHADER: 5.0

OS: Windows 10/11

FREE DISK SPACE: 16 GB
Best Gaming PCs for League of Legends
Here are our top picks for the best PCs for League of Legends. These come in multiple price points and will surpass the minimum and recommended requirements for the game.
Just Playable
If you want a playable version of League of Legends on a desktop, look at our Apex Build 16743 part of our Apex Refurbished Line. This system has a CPU that meets the recommended requirements and a dedicated graphics card that meets the 60 Hz refresh rate needed for casual play.
Bear in mind, this system likely won't give you the competitive edge you need to climb the ranks. At some point, assuming you build your own skills, this gaming PC just won't be able to compete with more technologically advanced systems.
That said, if you aren't looking to compete at a professional or semi-professional level, the Apex Build 16743 is perfect for casual League players.
Optimal Settings
If you want a more entry-level experience for League of Legends and have a higher 1080p or 1440p monitor to display, then going with an option like our Apex Alpha on our customizable gaming PCs may be the best fit. With the ability to apply 13th-generation Intel CPUs and upwards of a 4070ti, your experience on League will be like no other system in previous generations of hardware.
Highest Setting
For the most demanding peripherals and highest preset quality. Going with the best components to play League of Legends or any other game is achievable with our Apex Xtreme, available on our mainline.
The Apex Xtreme has access to some of the highest spec parts on the market, including the highest possible chips from Intel's latest generation of CPU, ensuring a responsive and competitive edge. In addition, the latest RTX cards are also available for upgrade across 2 generations from AMD or Nvidia.
This is the gaming PC you want if you're looking to compete at higher levels and ascend the ranks in League of Legends.
Laptop for Travel Gaming
Apex Gaming PCs also have a list of compact gaming laptops capable of playing League of Legends at 1080p in our laptop line. A personal favorite of mine is the Apex X1 and its integrated graphics option to play many games on low settings with little thermal variation from the CPU.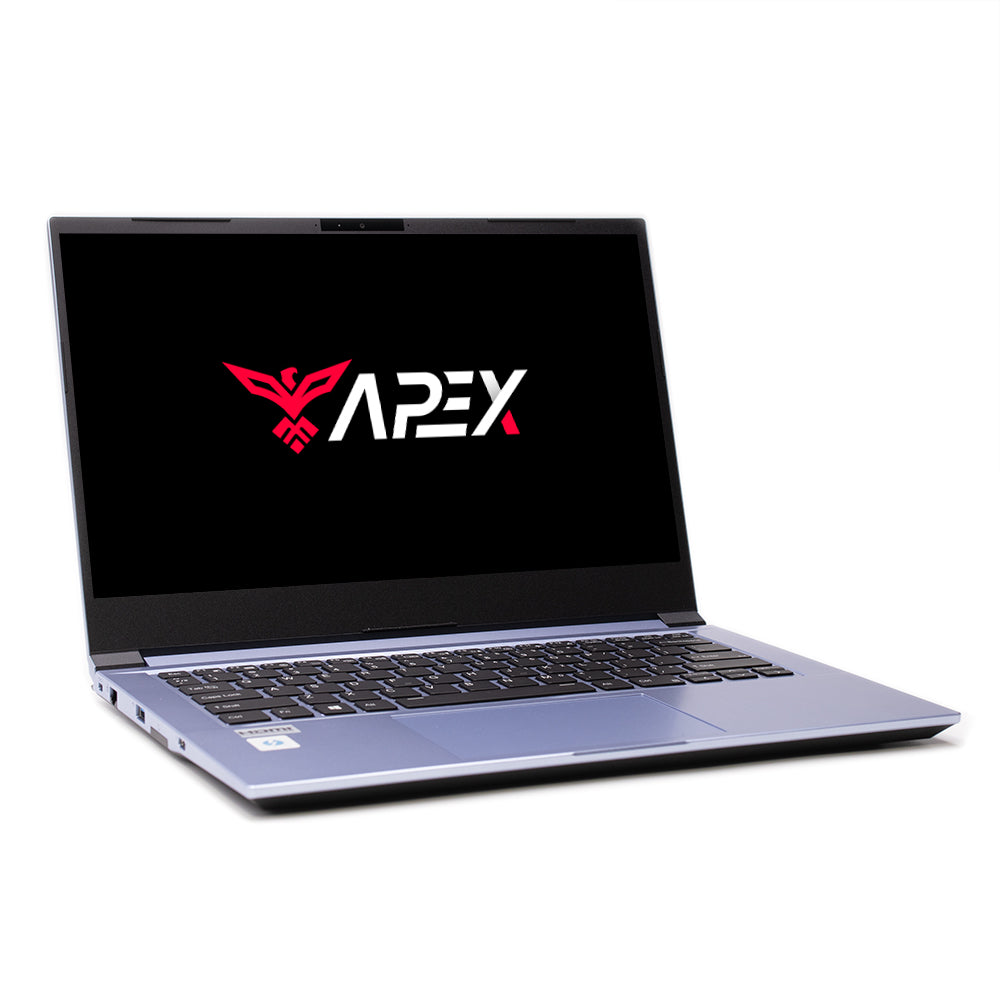 Other models like the X2 and X3 have a dedicated GPU with a broader range of games that can be played on the go and have a slightly larger battery life when playing a less intensive game like League. 
I've known a few people who like to play a few games while on vacation or at the airport while they wait for a flight. If you get really into League, having a gaming laptop with you is almost a necessity for travel.
What to Look for in a PC for League of Legends
Here is what to look for in a gaming PC that runs League of Legends. Since the system requirements are low, setting up a system requires a lot of versatility.
CPU is a Top Priority
Like most massive online competitive games, League of Legends is optimized on CPU/ integrated graphic systems. This allows a large player base to play on significantly entry-level hardware, including their mobile game League of Legends: Wild Rift.
For desktop gaming, having at least 4 cores is a good starting point for basic multitasking and gaming. While playing just League can be done on technically fewer cores, if it's only used for gaming at one time and not, music services, web browsers, or additional live streams or videos on additional monitors.
GPU isn't Too Important
The GPU required by League of Legends is not critical due to being primarily a CPU-driven game. Game AI and a general movement input system need the CPU to process quickly.
Having a decent monitor also helps this process, as a significant contributor to system latency is the amount of time it takes to display the next active frame without significant screen tearing.
League Has a Low RAM Requirement
In addition to not needing a dedicated GPU, League of Legends also does not require a lot of RAM to run. However, depending on your RAM and CPU speed, it can have longer load times. 
Long loading times aren't the end of the world, but ensuring that your RAM is up to the task of keeping up with your CPU and storage solution is vital. 
Aim for 120 FPS
A frame rate 120 is a perfect mixture of casual and competitive tendencies. On the one hand, the monitor's refresh rate of over or at 120 Hz allows for crisp image detail and aids in attack reaction time. Conversely, your system is at a gold standard in performance, never majorly compromising the game or your multitasking performance!
Summary of Finding the Best Gaming PC for League of Legends
No matter your skill level or entry hardware, League of Legends is an incredibly accessible game that continues to foster a large player base. Getting a laptop or entry-level desktop PC will allow you to play one of the most popular MOBAs in the past decade. 
At Apex Gaming PCs, we have mainline and refurbished PCs that meet the minimum, recommended, or desired specs for your potential gaming PC. Whatever your game needs, we hope to be of service at Apex!
Written by William Wilson
Header Photo: Tencent
---