Best Gaming PC for Minecraft & Hardware Specs
Minecraft's popularity for people of all ages has made itself, by far, one of the most readily available and accessible games on multiple platforms. Between its two different PC versions, ensuring you meet the hardware demands isn't too difficult. That said, finding the best gaming PC for Minecraft still presents some challenges due simply to how you want to play between vanilla, with or without shaders, and if you want to install other mods or mod packs.
With its inception on PC, many of the original Minecraft player bases prefer the Java version over the Bedrock version created by Microsoft after they acquired the IP in 2014.
Even still, its development over the last decade has given rise to many communities within Minecraft itself that require more processing power or advanced hardware to accomplish goals within the game's set parameters. Whether it's creating newly shaded environments, running ray tracing, or having to render multiple chunks to keep view distances up. Depending on the intensity, there are always more ways to upgrade your gaming desktop to improve your Minecraft gameplay experience. 
This article covers all the intricacies of defining the best gaming PC for Minecraft for you and what to consider in hardware, depending on how you play.
Top 4 Prebuilt Gaming Desktops to Play Minecraft
Here is a comprehensive list of the best pre-built PCs for Minecraft  Apex Gaming PCs offers designed off of our mainline and 50% Lines, which host multiple systems at different price points. 
Budget Minecraft Gaming PC
To get the most cost-effective gaming hardware for playing Minecraft's PC versions with no additional mods, shaders, or significant draw distance would be Apex Build 16743; part of our 50% line. With the RX 580 and Ryzen 3 processor, one could quickly achieve over 100 FPS.
Mid-Tier Minecraft Gaming PC
Suppose you're looking for a modded experience or spend hours playing Minecraft. For the best results, prioritizing a CPU and RAM for your system will pay off due to the amount of utilization needed to accommodate mod packs or further render distances. 
Our Apex Alpha is the perfect contender with its access to Intel 12th and 13th-generation CPUs and support for up to 32GB of DDR4 RAM.
CPU

: Intel Core i9- 12400KF

COOLER

: Apex 120MM Cooler

MOTHERBOARD

: AsRock B660M-HDV

RAM

: 16GB DDR4-3600 (Non-RGB)

GPU

:  RTX 3060Ti

STORAGE

: 512GB NVME

PSU: 750W Power Supply


High-End Minecraft Gaming PCs
For a high-end experience playing Minecraft, its modded variants, or stream/recording while playing more intensive features. Look no further than our Apex Zen, with access to some of the highest-speed Ryzen 7th generation CPUs and AMD or Nvidia graphics cards. 
At the highest, adding mods or shaders in addition to running background tasks like streaming or recording raises the entire system's work output. Here's a Minecraft PC capable of running these background tasks while you play games at high quality settings at just over $3,000. 
CPU

: AMD Ryzen 7 7700X

COOLER

: Apex 360MM Cooler

MOTHERBOARD

: Gigabyte X670 Aorus Elite

RAM

: 32GB DDR5-5200 (Non-RGB)

GPU

: RX 7800XT

STORAGE

: 1TB NVME

PSU

: 1000W Gold Power Supply
Ultimate Minecraft Gaming PC
If you require the best hardware currently on the consumer market for gaming,  editing streaming, or workstation applications, you can go wrong with our Custom Builder or Apex Xtreme.

The Apex Xtreme is incredibly accommodating with its upgradability and defining case by Corsair, capable of additional storage and airflow while not compromising the case aesthetics. It sits as the best PC for Minecraft from out line of gaming desktops for these reasons. Here is our ultimate configuration when getting an Xtreme with maximum settings for around $5,000.
CPU

: Intel Core i9-13900KF

COOLER

: Apex 360MM Cooler

MOTHERBOARD

: MSI Z790 Carbon

RAM

: 64GB DDR5-6400 (Non-RGB)

GPU

: RTX 4080

STORAGE

: 1TB NVME//500GB Gen4 Boot Drive

PSU: 1000W Gold Power Supply


Minecraft Official Hardware Requirements
Minimum System Requirements
CPU: Intel Core i3-3210 3.2 GHz / AMD A8-7600 APU 3.1 GHz or equivalent
RAM: 2 GB
VIDEO CARD: Integrated: Intel HD Graphics 4000 (Ivy Bridge) or AMD Radeon R5 series (Kaveri line), Nvidia GeForce 400 Series or AMD Radeon HD 7000 series.
Operating System: (Windows 7 minimum) or Windows 10 or 11
FREE DISK SPACE: 4 GB
Recommended Requirements
CPU: Intel Core i5-4690 3.5GHz / AMD A10-7800 APU 3.5 GHz or equivalent
RAM: 8 GB
VIDEO CARD: GeForce 700 Series or AMD Radeon Rx 200 Series 
OS: Windows 10
FREE DISK SPACE: 4 GB
What to Look for in a Desktop PC for Playing Minecraft
The configurations above seem good, but what does Minecraft specifically stress depending on what's installed? Here is a look into how certain hardware plays a role in Minecraft.
Minecraft Isn't Too Hardware Intensive, but You Still Need Decent Specs
Minecraft is not too hardware intensive, but depending on the mods installed, that may change significantly. In addition, check your computer's capability with the minimum and recommended system requirements for most gaming PCs currently on the market. 
For example, a weak graphics card may not be able to handle long draw distances or prevent you from using a shader you want to try.  Intel HD graphics or AMD Radeon HD graphics cards help ensure Minecraft looks the way you want it to improving your overall gameplay experience.
Minecraft Mods Can Increase Demand on Your Computer
Installing mods and using mod pack services like CurseForge, Fabric, Technic, and many other mod packs, which consist of over 50, 100, or around 400 mods, can seem daunting to your system's hardware, especially the available RAM.
When loading mods, especially in the Java version of Minecraft, a sizeable portion of system memory is needed to load all the data required for the mods during the session. This varies depending on the mods used, and the speed at which they are loaded depends on the CPU and RAM. This can have a serious affect on your game's performance even with optimization mods to help streamline the process.
Also, go into your launcher's settings and see how much system RAM is dedicated to the mod packs. Going with at least 4GB will be fine for most mod packs, but more may be needed. 
Shaders in Minecraft
Like mods, shaders are graphical mods installed to upgrade Minecraft's voxel aesthetic. These mods are possible due to users like sp614x and creating Optifine to overhaul Minecraft render engine to make way for visual shades you can find on sites like Minecraft Shaders.
While shaders are not necessary for any Minecraft experience, some gamers view the game's graphics as part of its charm, having hardware that can run shaders and allow the simplicity of Minecraft to be seen realistically is an eye-opener, especially to the nostalgia of people coming back to the game after so long.

If you install shader mods, you may want to upgrade your PC's graphics card. Weaker GPUs simply won't be able to handle the more detailed shader packs. What's worse, if your PC has integrated graphics, it becomes much harder to upgrade and customize your desktop to get the look you want from your Minecraft gameplay. As such, look for pre-built PCs which have a discrete graphics card you can either upgrade from the start or on your own later.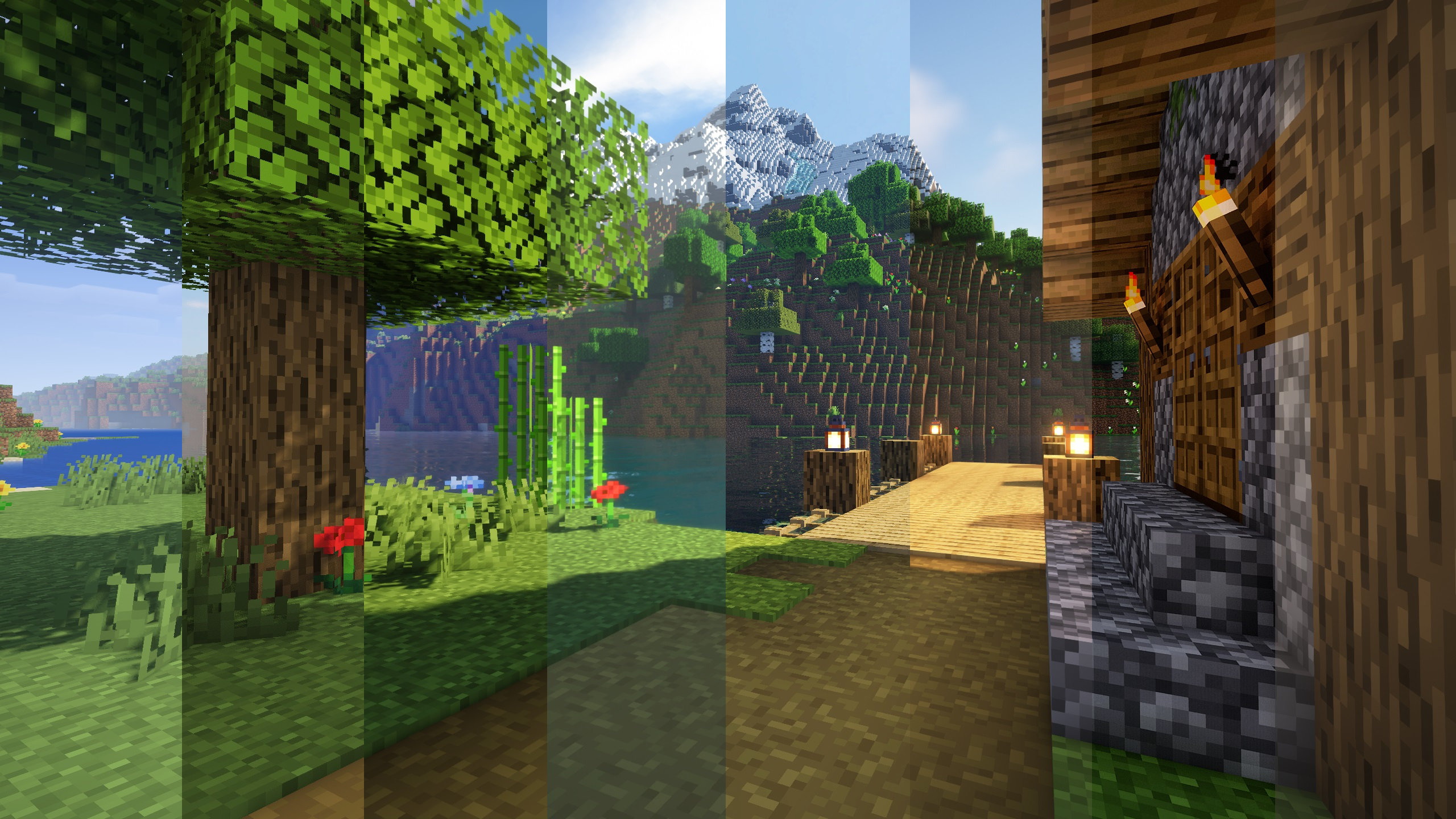 Does Minecraft Need a Powerful Gaming Computer?
Minecraft can be played effectively without a powerful PC. Hardware as far back as 2010-2011 should run Minecraft. It's recommended to have a more modern system regardless, depending on if you want to add mods or shaders. 
Summary of Minecraft Gaming PCs 
Whether you are looking for a vanilla Minecraft experience or a highly modded playthrough, having newer hardware will make or break your experience even when it comes to Minecraft. The CPU and RAM take most of the load in how the game functions; however, shaders demand more from the GPU, ensuring that all major components have their work cut out.
At Apex Gaming PCs, we have a wide range of affordable systems that can run Minecraft with and without additional content, from under $1,000 configurations to no compromise gaming PCs with all the bells and whistles. No matter your Minecraft configuration needs, we hope to be of service at Apex!

Written By Will Wilson
Photo Credits: Dylan Lam & Pavan Bhakta

Related Articles:
Overwatch PC Configurations & Requirements
Escape From Tarkov System Requirements
Final Fantasy XIV Requirements
---